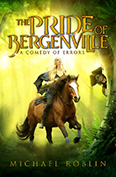 When my book was ready for publishing, I knew it would be a difficult sell as it is nowhere near what you would call 'mainstream'. For one, the style of writing was that of an earlier time. And, there was no blood, gore, guts or sex – except during the writing process. But I digress.
What I would need was an outstanding cover that would not only be an eye catcher, but would also portray the nature of my story. After reviewing the websites of a number of designers, Mark of AuthorPackages seemed to be the best fit. I couldn't have made a better choice. From the beginning of our correspondence, Mark expressed a clear and thorough understanding of exactly the type of story I was trying to tell. With little guidance from me, he came up with an incredible cover that far surpassed expectations.
Lorna's work on the interior design was equally impressive. At every step in the process, Mark and Lorna sent me their work and asked for my feedback and suggested changes. There was literally nothing I could think of that would have improved their recommendations. I highly recommend them for any and all work an author might need.